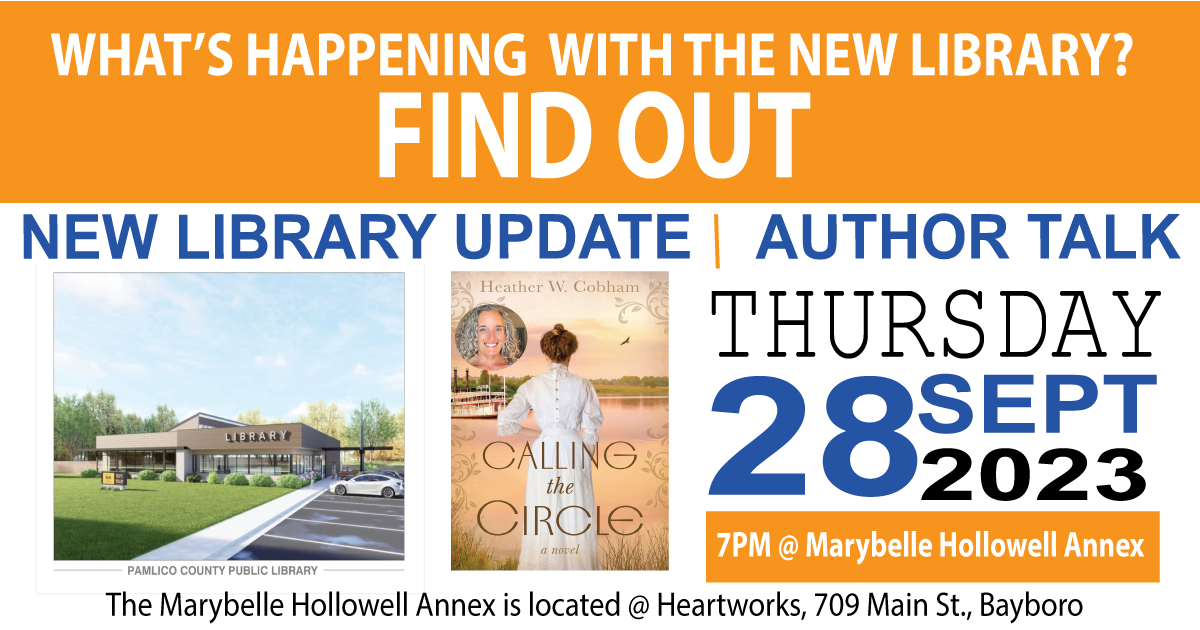 Friends of the Library Meeting - Thursday, September 28 at 7pm at HeartWorks (709 Main St, Bayboro) Join us for an update on our activities and progress on the new library/community center.  We will also feature special guest and local author, Heather Cobham.  Heather's presentation will address both the historical and the fictional aspects of her latest novel, Calling the Circle. You will learn about her research process, what life was like in Oriental during 1914, her inspiration for writing Calling the Circle, and her writing process.

Old Front Porch Music Festival – Saturday, October 7 from 10am to 6pm (or whenever food runs out) at  LouMac Park & South Avenue on the Neuse River waterfront. Help us raise funds for the new library by lunching on delicious, healthy, from-scratch chicken, broccoli and orzo salads prepared by the talented chefs at Yawl's Cafe.
Classic Car Show – Saturday, October 14, from 10am to 3pm at LouMac Park & South Avenue on the Neuse River waterfront. Stop by and see the Craven-Pamlico Library Book/Tech Mobile and chat with the Friends about our plans for December 2023 ground-breaking on the new library.
Witches Crawl – Saturday, October 28 (Times TBD). The annual Witches Crawl will benefit the new library and community center!  Please check https://www.facebook.com/witchescrawl/ for more information on locations and times.
FOL's Annual Fall Book Sale - Saturday, November 4, from 9am to 4pm at the Annex trailer located to the right rear of the current library and high school – Stop by and peruse our many fiction and non-fiction books, all nicely organized and easy to find! FOL members are invited for a sneak preview on Friday, November 3, from 4pm to 6pm.  Join us for "sip and search" complete with wine and snacks.
---
Friends of the Pamlico Library is leading the development of a modern, multi-use library that serves as a true community resource center.
Designed to hold a 36,000-item collection, the 9,000 square foot facility will be much more than a traditional library, with common space and individual meeting rooms, technology resources such as computer and internet access, a business center to encourage and support economic growth, multi-generational reading rooms, and an internet café that provides youth employment and training. Download and share the FOL Brochure.

Libraries are becoming less about materials and more about the experience of learning and connecting.  Our vision is a multipurpose space with creative programs and offerings that will serve the needs of our community today and into the future.  Bonnie Cap, President, FOL